Food science fascinates me. A lot of people think that all the hard work goes into fresh, organic meals, lovingly created by third generation chefs who've studied for years in culinary academy and then spent much of their lives slaving in front of a hot burner.
They're just wrong.
There is more work in one of those crappy little McDonald's hamburgers than there is in most fancy four-course meals, and that includes the strain required to keep up polite conversation with your dinner partners for a couple of hours.
Convenience food means three things. It must be easy, it must be cheap and it must be consistent. Notice that I've said nothing about taste there. That's because taste doesn't really enter into a lot of that kind of food. If you can get a few hamburgers and still receive change back from a fiver, you don't care that they taste mediocre, because you're full and you still have enough money left over for gum.
Fast food gets a lot of bad attention, but there are a lot of people who work to make sure that the food you get at your local franchise tastes decent, and you get it luke-warm. In comparison, there's one kind of convenience food that has absolutely nothing going for it.
First sold by Swanson's in the 50s, the TV dinner (or as they're called nowadays frozen dinner), contained a full meal in a compartmentalized tray that was meant to be put right in the oven to cook.
Lots of food tastes good, but frozen dinners usually don't. I've endeavored to try some and I've enlisted some help. I know what I like and I know what I don't, so I figured if I was going to review these things, I wasn't going to pick them out. So, I've enlisted some friends, who, in between sneaking peeks at erect nipples in the supermarket's frozen food section, have brought me horrors that I could not have possibly fathomed.
And so it begins...but first, the rules!
Rule #1:
I must follow cooking procedures exactly as they're shown on the container. I will not deviate from those instructions in any way, and I must prepare food in the fastest manner presented to me.
Rule #2:
I must consume everything that comes with the meal. No hiding of disgusting parts will be tolerated. (In the unlikely event of bones or other inedibles, allowances will be made).
Rule #3:
To make sure my palate is completely free of obstructions, I may only be allowed either water or alcohol. Alcohol does not include fancy-pants fruity girly drinks.
Rule #4:
All food will be graded by smell, taste and mouthfeel, with less offensive qualities receiving higher marks. At the end, each part is receives an average score. The full meal is graded by the average score of each component. Appearance of the food is not graded because, let's face it, they all look pretty bad.
With those rules now in place, today's frozen dinner is: Michelina's Zap'ems Taco Bites.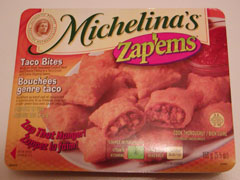 It's South of the Border for Michelina...so...Sicily?
Ok, so this stuff is marketed to kids, but who's going to stop me from eating it anyway? Any takers? No? Damn.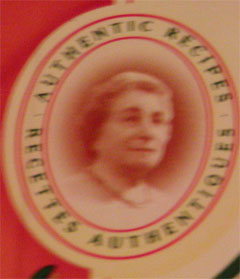 Keep smiling bitch, I'm on to you.
Although I'm not sure that the 5.5 oz of food in here can truly 'zap my hunger' as the box claims, I'm willing to give it a shot.
I'd like to point attention to Mama Michelina on the box, looking over at me with quiet disdain, a silent smirk painted on her face. She's daring me to try it. My thumb covers her face as I tear her free from the box before crumpling it into the trash. Take that Mama Michelina, I'm boss around here.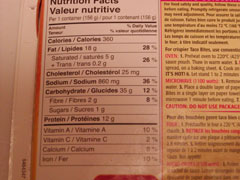 Hmm...2% of my Vitamin C...maybe these can help stave off scurvy.
Now, frozen dinners are notorious for being loaded with salt and fat, and boy does this fit the bill. I'm going to be consuming 18 grams fat and 860 mg of sodium here in one go. For those of you who don't speak metric, that means that almost 12% of this meal is pure fat. I'm going to need a piece of bread to wipe the grease off my arteries when this is over.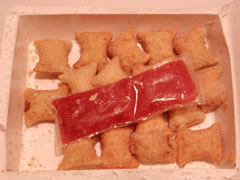 Frozen little nuggets of zesty-flavored fat and salt.
Ok, so I tear open the box and I the first thing I see is this 'freezie' of salsa on top of 16 taco-nuggets. Ok, so it's not particularly appetite-inspiring, but it's not horrible either. I'll chalking this up as a good thing, so for those of you keeping score that's a total of one point.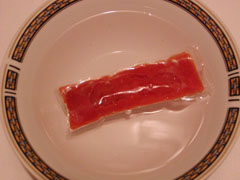 Thrilling.
Now comes the cooking. I had to get a bowl of hot water and toss in the salsa package to thaw. So, my fears of an exploding packet of salsa have now been eased.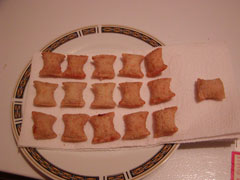 The one on the right is separated from the others because he beats his wife.
As for the taco bites, they get stuck on top of a sheet of paper towel and thrown in the microwave for a couple of minutes.
A couple minutes later the taco bites are nice and brown, with a couple of explosions, and I put to plate. First thing I realized was that although the water I put the salsa in was near boiling, the package is still frozen in the middle by the time the instructions tell me to take it out. Well, this is certainly off to a good start.
I grab a glass of gin on ice and prepared to tuck in.
Taco Bites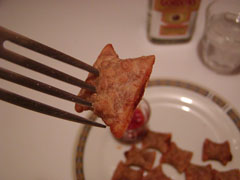 Yummers.
Alright, so there's really no smell to speak of. At least it's not horrible, but it's still kind of iffy. The taste is pretty good for something that looks like this. The texture is...different. It's sort of like biting into a soggy corn chip filled with a mixture of refried beans and pureed dog food.
Smell: 5/10
Taste: 7/10
Mouthfeel: 3/10
Total Score:





(5/10)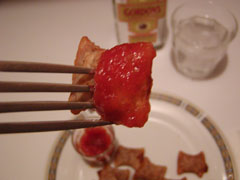 Double-Yummers.
Salsa-type Product
First of all, you might be confused about the name. Is it salsa? Well, the box says so, but I disagree. This stuff smells like ketchup and tastes like ketchup, but brother, it ain't ketchup! (apparently). It's got a metallic smell that's off-putting, and it's slightly gritty with none of the chunks of veggies that one would associate with actual salsa.
Smell: 3/10
Taste: 3/10
Mouthfeel: 1/10
Total Score:



(2.3/10)
The Totals:
Smell: 4/10
Taste: 5/10
Mouthfeel: 2/10
Total Score:




(3.7/10)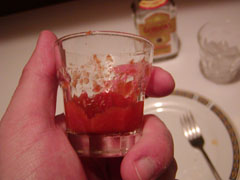 Oh God...there's some left.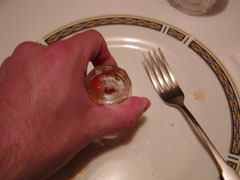 Here's mud in your eye.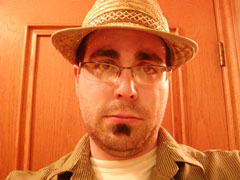 I hate you all so much right now.
So, this stuff is pretty bad. It doesn't taste horrible, but it comes together in a mess that's just absolutely repelling. But, oh geeze, there's a problem here. There was way more salsa than taco bites with which to dip. I've still got part of a shot glass of salsa.
The things I do for you people.
Bottom-line: Salsa shooters will not be hitting your local bar scene any time soon.
Next time, we give a hearty welcome to Swanson's Stuffing Baked Turkey and see if I can pick out friends who won't get me the worst crap they can find to review!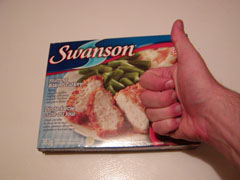 Tasty turkey dinner or reason to commit suicide?
Did you like this article? Then try: