Christmas is a joyous time, where we celebrate by sitting down with our families and enjoying a nice meal, having a few drinks with friends, and exchanging presents with each other. It's supposed to be a happy day, one that fills us with good cheer and warmth.
And it's all a total crock.
Christmas is scary! It's really damned scary! It's one of those frightening times of year where you should lock yourself in a closet, cover your ears with your hands, shut your eyes tight and pray for the madness to go away.
So, what's so scary about Christmas? Well, let me just spell it out for you!
Christmas Trees
Christmas trees are explosive bundles of kindling and tinsel, ready to burst into flames at a moment's notice. Don't believe me? Well, just about every moderately sized fire department reminds us every year that our Christmas trees will kill us!
According to US Fire Administration, Christmas trees are responsible for about 250 fires each year in the United States, resulting in 14 deaths, 26 injuries and over $13.8 million dollars (USD) in property damage. You saw the video above. They ain't fucking around here!
Ho-ho-holy shit! I know that means that far less than 1% of all Christmas trees could potentially erupt into an inferno of holly-jolly death, but do you want to take the chance?
Thankfully, most tree fires can be avoided by making sure your Christmas tree is properly watered. So, just remember to water your damned tree and you probably won't die. It's as easy as making sure that your house plants are watered. Those of you with a dead ficus in your living room might want to switch to a synthetic tree this year.
Fruitcake
Fruitcake. Even the mention of it is enough to send shivers down the toughest man's spine. Fruitcake is a cake, filled with fruit. If you didn't know that, you should probably check your pulse, because you might be dead and you haven't realized it yet.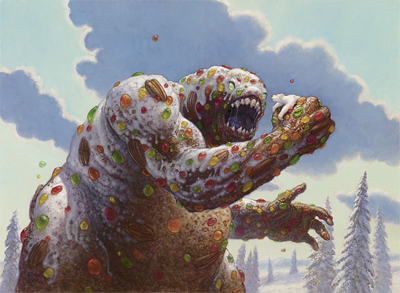 Artist's representation of the evil of fruitcake.
Some people actually believe that fruitcake improves with age. The only problem being that since it's a cake, little things like mold tends to keep it from aging like a fine wine. Like most things in life, the solution is to use alcohol. Some cakes are soaked in wine or brandy and then wrapped in linens that have also been left in hooch in order to preserve them.
How long? Well, the Joy of Cooking estimates the average life span of a liquored-up fruitcake to be about 25 years. If you want to eat a 25 year old fruitcake, you're on your own. Of course, you can still find older ones, like this beauty that was created in 1911, presumably forged in the fires of Mount Doom.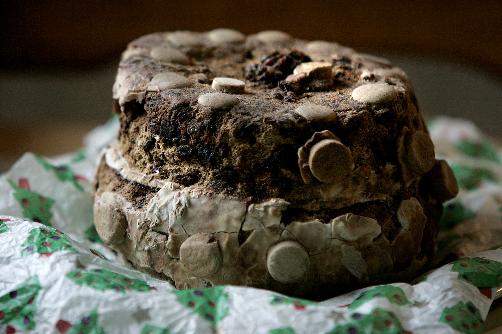 Almost as appetizing as a fresh fruitcake.
Care for a slice?
The Grim Spectre of Death
If you've got a family, and most of us who aren't tying nooses around our necks right now do, then you have elderly relatives. But chances are, you have one really old relative too.
You know the one I'm talking about. Their kids abandoned them some time in the early sixties, and nobody in the family can precisely pin down exactly how they're related to anybody else. They're covered with liver spots, and shake like an alcoholic who's been dry for a week. They smell like cat pee and mothballs. They want to sit next to you and talk to you all night, but they don't have a hearing aid, so they tend to shout at you, from three feet away.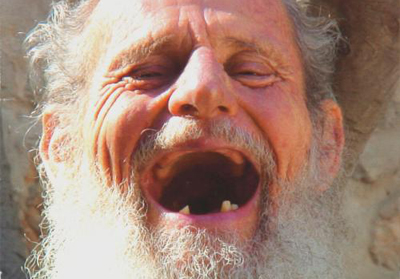 As you are, I was. As I am, you will be.
But as you look at them, and stare at their toothless maws, you realize deep within yourself that one day, you might get this old. You could be infirm, wearing an adult diaper and face the real threat of falling down and being unable to get up for several days, or until the dozen cats you own decide to eat you. In short, this person is a living reflection of your future self.
And that's when you decide you need a little more eggnog to dull your nerves.
Santa Claus
It's like that one Police song that people keep misinterpreting as romantic, when it's really about a stalker. Children are enraptured with Santa Claus. But that fat fuck is one of the scariest things about the holiday!
Think about this. The man keeps a sophisticated surveillance system in place 365 days a year, in order to monitor the behavior of children. Then, one day a year, he commits millions of burglaries, and leaves a toy for the victims.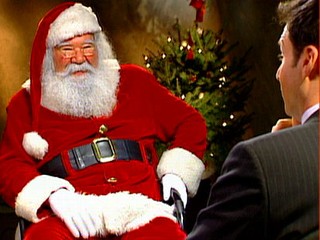 "Well Dan, after that I'm going to take a shit in their fridge."
That's just fucking creepy.
Then, you have mall Santas. People who get paid for dressing up in a red suit and letting children sit in their lap while people take pictures. The job attracts a wide range of people, from drunks to pedophiles.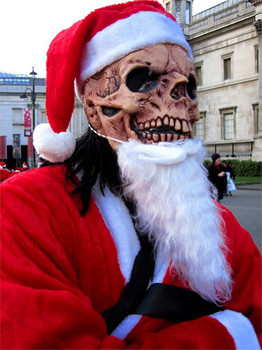 This guy looks like he's on the level.
But even after all of that, you still have the foreign Santas. Now, I'm not saying that our Santa is any better than anybody else's. I'm saying that some of the other ones scare the shit out of me.
Santa's Helpers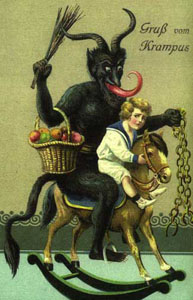 Demons: a wholesome Christmas tradition.
This is Krampus. He's a demon who works with Santa in the Alpine regions. His job is to scare the shit out of kids so they'll be good. If he doesn't do his job right the first time, he returns to give the parents a switch with which to beat the asshole out of their kids. And that's if he's feeling generous. Sometimes he just drags the children, screaming, into the firey pits of Hell.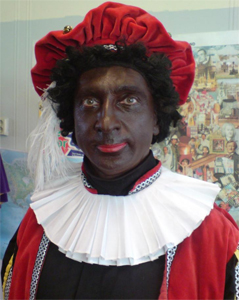 Blackface: a wholesome Christmas tradition.
This is Zwarte Piet, from the Netherlands. His name means 'Black Peter' by the way, and he's Santa's slave. If you're good, he gives you candy. If you're bad, he either beats you with a birch branch (which is way more hands-on than Krampus), or he kidnaps you and takes you to Spain. I'm not quite sure why he picks Spain. Maybe the children become indentured slaves, working as busboys in bars and moderately-expensive restaurants, forced to take abuse from drunken British tourists.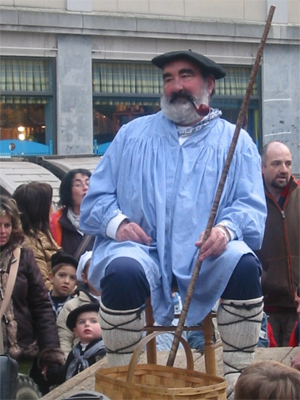 Throat-slashing psychopaths: a wholesome Christmas tradition.
This is Olentzero, from the Basque region. Some stories say that he's a giant who is older than Christ and the last remaining survivor of his race (every other giant died tripping and falling down the same cliff, at the exact same time). Other stories say that he's a charcoal burner who died in a fire while trying to rescue some children, and was turned into an immortal as a reward that eerily mirrors the origins of Freddy Kruger.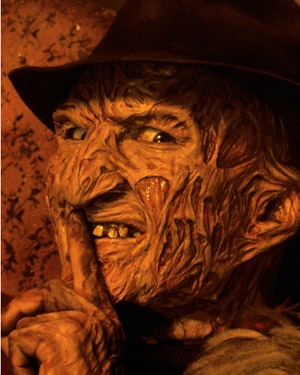 Those of you who guessed this year's most improbable inclusion
into a Christmas article would be Freddy Kruger: step up and collect your prize.
The similarities to A Nightmare on Elm Street don't end there. If children don't go to bed, it's said that Olentzero will come into their houses and slit their throats with a sickle. Actually, he does the same thing if the children misbehave. Or if they're out past curfew. He's got a fever, and the only prescription is to slash throats. Why has nobody made a horror movie featuring this guy? More than that, is this truly the behavior of a guy who's supposed to love children?
Scary Fucking Toys
So there's nothing left to talk about except the toys. The scary fucking toys.
Every year, a surprisingly large number of toys are recalled in the United States, and this year is no exception. There's the Munchkin Bathtub Sub, which is apparently responsible for over 19 genital lacerations. Cuts. To the junk.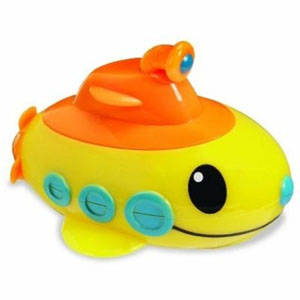 Don't worry, I only want to be your friend, and maybe cut your dick.
7 million Fischer-Price Trikes and Tough Trikes were recalled after 10 children injured their genitals falling onto a plastic ignition key.
A set of vegetable toys from Land of Nod was recalled when it was discovered that a wire could be exposed from within the toy asparagus and lead to lacerations.
Beyond these examples, there's the usually yearly bevy of recalls because of choking hazards and presence of heavy metals, like lead and cadmium. The scary thing is, these aren't small companies. Some of these toy makers are pretty big. I saw Disney's name mentioned in a few of the heavy metal-related recalls.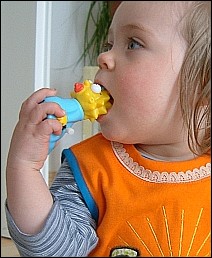 Eating this hard piece of plastic
might make this kid even stupider.
But genital mutilation, amputation and dying slow painful deaths aside, there's something scarier about toys. I'm talking about the creepiest toy of all time: dolls.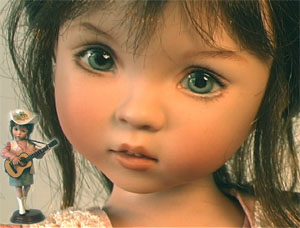 This is the true face of fear.
Beyond being just generally creepy, a lot of these dolls do really creepy things. Some of them talk. Some of them cry. Some of them eat, and some of them shit after eating. The problem with dolls is that they get exponentially more creepy when there's more of them in an area, or when they get broken.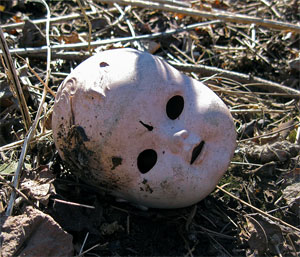 Correction: this is the true face of fear.
So, there you have it. Now, if you'd excuse me, I'm going to go hide under the bed until Boxing Day.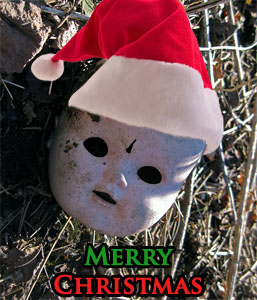 Did you like this article? Then try: