Lately there's been a lot of buzz about a little movie named The Expendables. It's supposed to be a throwback to the over-the-top action movies from the 80s and early 90s. I'm holding out hope that it will live up to the considerable hype being given to it, but all this talk about action movies has got me thinking about the greatest action movie of all time: Die Hard 2.
Now, believe it or not, some poor souls haven't yet have the opportunity to watch this cinematic masterpiece, so I've gathered a list of reasons why this is the greatest movie of all time, and now I'm going to share them with you.
Sipowicz, King Among Men
We know the man as Sipowicz; the man who showed his ass on primetime TV and babysat Zach Morris for 4 seasons of NYPD Blue. Ok, so some of you don't. Before David Caruso was putting on his sunglasses and making inappropriate comments around dead bodies in a creepy monotone on CSI Miami, he was putting on his sunglasses and making inappropriate comments around dead bodies in a creepy monotone on a show called NYPD Blue.
Caruso was playing second fiddle to this man: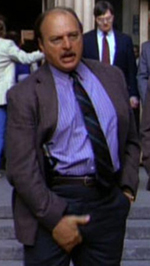 I got your CSI right here pal!
The man's name is Dennis Franz, and he is a legend, nay, a god.
The amount of pure attitude that he serves up to John McClane during the entire movie is astounding. You could quite literally power a small town for a week on the snark alone, and the sarcasm could be used to level a city the size of Green Falls.
And believe me, when this man gets pissed off at you, you take notice.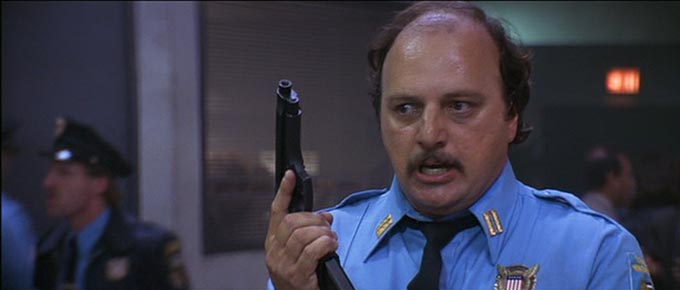 Holy shit, that's fucking scary!
It's a Pretty Good Adaptation of a Good Novel
Ok, so Die Hard was an adaptation of a novel called Nothing Lasts Forever by Roderick Thorpe. That wasn't a perfect adaptation, but it was pretty darned good as far as these things go.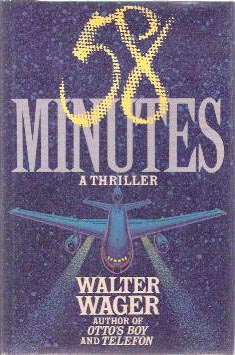 Just so you know I'm not making this shit up.
Die Hard 2 on the other hand was an adaptation of a book called 58 Minutes by Walter Wager. It wasn't a perfect adaptation, but again it was pretty good. Unlike most adaptations that take the title, characters and leave the rest, this took the general plot and changed up the hero. Fans of the book don't have to be annoyed by the movie and vice-versa.
Now if only they could do that for just about every film Will Smith stars in...
Bonnie Bedelia is a Stone-Cold Fox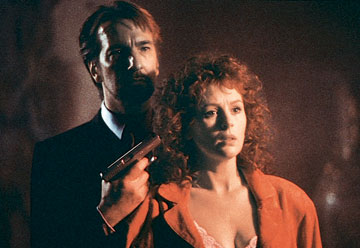 And also, for some reason, Alan Rickman.
'Nuff said.
Generalissimo Esperanza May Be the Most Interesting Man in the World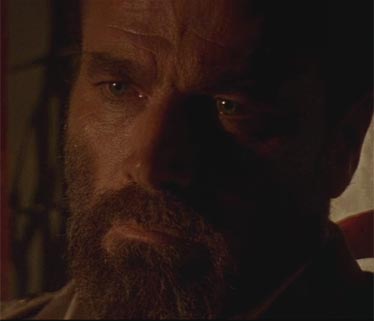 Holy crap, it's the Dos Equis guy!
Look familiar?
Well, unfortunately the actor who plays villain Generalissimo Esperanza is not the Most Interesting Man in the World. But he certainly looks like him doesn't he? Well, the Dos Equis guy is actually a different actor by the name of Johnathan Goldsmith. Still, when watching the movie, it's fun to pretend.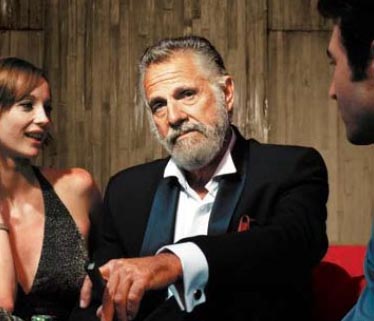 Holy crap, it's the Dos Equis guy!
He's able to strangle you with his manacles.
He can pilot a plane in a snowstorm with no windshield.
He's got friends in the military who will kill to help him out.
He is...the Most Dangerous Man in the World.
Stay thirsty my friends.
William Atherton is a Prick
Some people get typecast as heroes, or villains, or as simpletons, or as aliens in science fiction movies. Some people get typecast as dicks.
In the world of movie dicks, there have been many names: Bradley Whitford, Christopher McDonald and Clint Howard to name only a few. But they don't even hold a candle to William Atherton.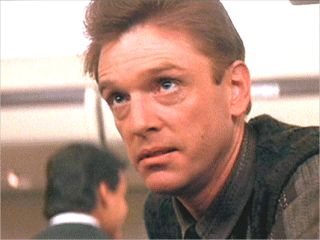 Yes, it's true. This man has no dick.
Seriously, think of a movie where William Atherton plays a total jackass who tries to make the lives of the main characters miserable. Was it a good movie? You bet your ass it was a good movie. (This also applies to TV shows, such as his appearance on Lost.)
I'm not sure quite what it is about him, but your face can't help but light up when he starts to berate somebody, because you just know he's going to get covered in marshmallow slime, zapped with a taser or punched in the face by Bonnie Bedelia.
Bless you Mr. Peck for making our lives a little sunnier by acting like a total jackass.
Colonel Stuart is one hell of a bad-ass villain
Ok, so he's one of the few Die Hard villains who doesn't have the last name Gruber, so he's got that going for him. He's one of the big baddies in this flick, a rogue soldier who's taken an airport hostage to secure freedom for his anti-commie drug-promoting Latin American presidential stooge. The man is willing to send a plane-load of Brits screaming into a fiery inferno of twisted wreckage and burnt crumpets just to prove a point.
And how are we introduced to Col. Stuart? By watching him perform tai chi. Naked.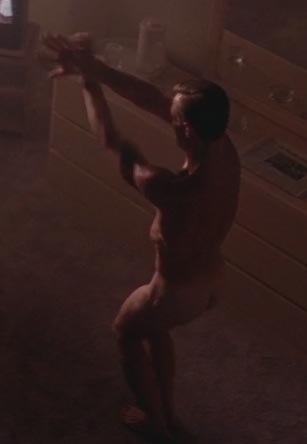 I don't think there's anything I can say here.
It's not often that we get introduced to a character by watching their bare-ass perform martial arts, so he definitely gets points for originality, but that's not all. Not only is he a soldier turned mass-murderer. He's also Death. Seriously.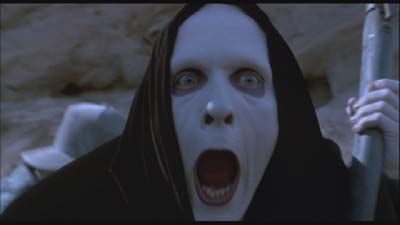 That totally concludes our object lesson on wedgies for this evening!
That's right...William Sadler, the actor who played Colonel Stuart was also the Grim Reaper in one of the greatest cinematic triumphs of our time: Bill and Ted's Bogus Journey.
And just in case you're wondering...he can indeed lay down some funky-ass rhymes.
And show business loves you too you crazy guy you.
A Ton of People Got Famous After Acting in This Movie
Die Hard 2 featured several up and coming actors and some who were about washed up and introduced them to a large audience. As a result, several actors became very famous just after featuring in the film.
Reginald VelJohnson (who played Al in both this movie and the original Die Hard) got famous on Family Matters just around the time the movie was filmed (which is probably why Al is only in one scene).
Dennis Franz (Captain Carmine Lorenzo) started on NYPD Blue only a couple of years after this movie.
Fred Thompson (Trudeau) had a good year in 1990 featuring in three hit movies (Die Hard 2, The Hunt for Red October and Days of Thunder). His success continued after, leading to him playing DA Arthur Branch in 4 iterations of Law and Order.
Robert Patrick (O'Reilly) who spent his entire time on screen killing people, about to kill people or getting killed himself, got a role the next year in Terminator 2: Judgement Day as T-1000. The transition from heartless killer to mechanical heartless killer was a natural one, and he's been scaring us shitless with that stare of his ever since.
John Leguizamo (Burke) didn't have a big role in Die Hard 2, but afterwards he was in a string of movies and has been working quite steadily ever since. We will never ever forgive him for The Pest though.
Colm Meaney went from doomed pilot from Windsor Airlines to engineer Miles O'Brien on Star Trek, and again on Star Trek: Deep Space Nine, ensuring that he'll be targeted by every rabid science fiction fan from here to eternity.
John McClane Appears to Realize How Ridiculous the Odds Are of This Happening to him Twice
The odds of being involved in a major terrorist situation on an airplane are about 1 in 16,553,385. The odds against being involved in a terrorist situation in the middle of the United States on the ground are likely quite a bit higher, we don't have any hard numbers here, but let's say it's 1 in 30,000,000 as a rough estimate.
That means that the odds of John McClane getting involved in the Nakatomi Plaza hostage situation are the equivalent of winning the lottery. Therefore the odds of him getting involved in another hostage situation in his lifetime are 1 in 900,000,000,000,000. The odds of both happening during Christmas are approximately 1 in 29,975,625,000,000,000,000.
Now, you might be saying "But McClane's a cop, of course he's going to get involved in hostage situations!", but that's where you're wrong. In both cases, John McClane was not on duty or in a city where he worked actively as a police man, thus he's effectively a civilian for the purposes of the statistic.
So what does this mean? He's more than one hundred times more likely to win 3 Olympic gold medals (1 in 290,117,528,000,000,000). He's also almost thirteen billion times more likely to be struck by lightning and killed (1 in 2,320,000).
What I'm trying to get at is that these are pretty long odds. Chances are it won't happen once, let alone on the same day in two consecutive years. So, understandably, McClane is pretty ticked off and displays bewilderment that it's happening to him again.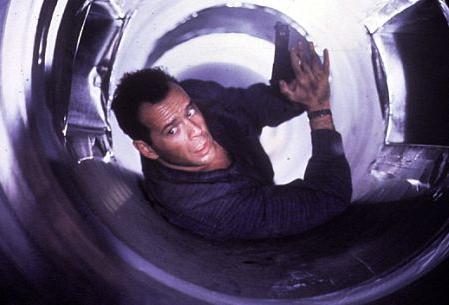 Just once, I'd like a regular, normal Christmas. Eggnog, a fuckin' Christmas tree, a little turkey. But, no! I gotta crawl around in this motherfuckin' tin can!
There's One Hell of an Explosion
Let's watch it again shall we?
And there you have it. All excellent reasons why Die Hard 2 is one of the greatest movies of all time. I just wish every movie was as awesome as this one. Maybe some movie executive will read through this one day and it will inspire him to reach such lofty pinnacles. He'll probably just end up financing a remake of Silence of the Lambs starring Robert Pattinson instead.
Did you like this article? Then try: