Ok, ok, I know what you're thinking. Hear me out. TV shows sometimes have names that, in retrospect, could be considered to be very unfortunate. We're talking full-on porn titles. It feels like it was yesterday when I heard about Seinfeld: the Porno.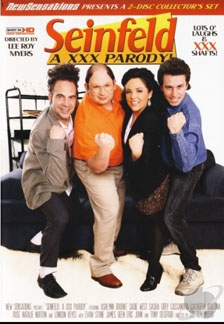 What's the deal with fisting?
Yeah. So, I saw the ads for this, and I got to thinking: geeze, this isn't a very good name for a porno. There are LOTS of other, better titles out here. So, I went through a ton of TV shows, and pulled out (hehehe) the best ones for you. And to be clear: this is American stuff only. If I included British and Japanese shows, this list could probably become a Top 50 list, and nobody has that kind of time.
I'm also including a treatment for each show to give you an idea of what it would take to make it a porno worthy of it's title, and then rate the hypothetical dirty movies in "Estelle Getty with a dick in her mouth"s. And if you don't know what an "Estelle Getty with a dick in her mouth" is, here's an idea:

And now that you know what that looks like, let's get to it.
10. Throb
What it really was:
Throb was a show about divorcee Sandra Beatty who worked for a New Wave record label called Throb. Not really much to know here. The show was pretty lackluster and aired for about two years in syndication. Let's just say this one will probably never make it to DVD, not even one of those crappy bootleg DVDs you can buy off the street corner.
One good reason to give this show props though. It introduced us to Jane Leeves: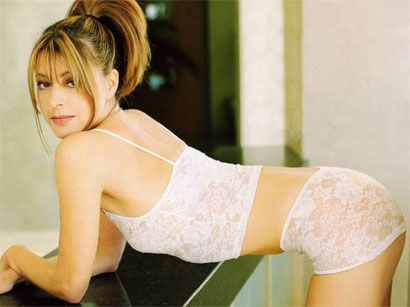 Oh yeah, and I guess she was also on Frasier or something.
Throb: the Porno:
Sandra Beatty is a recent divorcee who works for a company called Throb. While there she....ahh who am I kidding, I care even less about this version than the original.
Rating:

9. All in the Family
What it really was:
Lovable racist Archie Bunker shouts. He shouts at his wife, he shouts at his daughter and he shouts at his son-in-law. Sometimes he takes time off from shouting at them to shout an epithet at an extra, recurring character or random celebrity. Oh and occasionally he takes time off from that to smoke a stogie.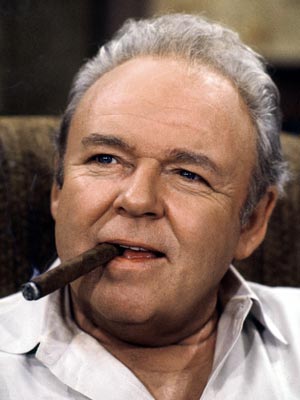 It's not a phallic symbol you meathead!
The show actually was pretty popular and quite funny, even holding up today. Originally based off a British show called Till Death Us Do Part, it spawned five spin-offs: 704 Hauser, Archie Bunker's Place, Gloria, The Jeffersons and Maude. And from those came two more spin-offs: Checking In and Good Times. That's a whole shit-load of shows. Not even M*A*S*H could match that.
Even the cast was all-star. Rob Reiner, now a film director with several amazing films under his belt, played son-in-law Michael 'Meathead' Stivic, while Sally Struthers, who played his wife is now keeping Ethiopia on a strict diet by consuming everything edible in a 100-mile radius, or she's an activist who collects money to help fund starving children in impoverished African nations...whichever's funnier.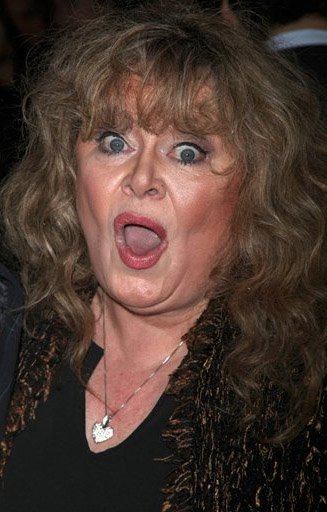 Stifle it with the fork there little girl.
All in the Family: the Porno:
It's the stuff of nightmares and nausea as lovable racist Archie Bunker is determined to keep it "all in the family".
Rating:



8. Cougar Town
What it really is:
Courtney Cox plays Jules Cobb, a 40-something recent divorcee who decides to get back into the dating scene and get sexed up by men half her age. Wait...are you sure this isn't already a porno?
Ok, so it's apparently Sex and the City minus the horse-teeth.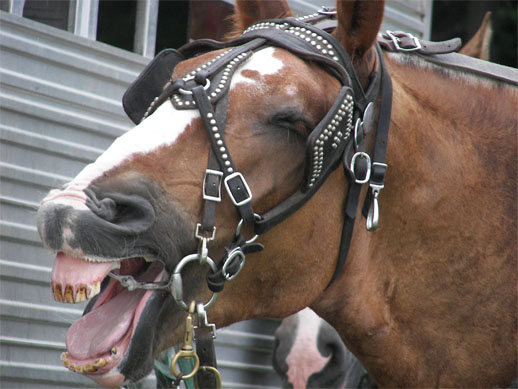 Ladies and gentlemen: Sarah Jessica Parker!
Seriously though, despite the ripped premise and the appearance of Drew Carrey Show alumni, the show hasn't really been all that well received. Most critics are giving it mediocre reviews, which if the show was on NBC, would make it enough to fire Conan O'Brian and put it in his time-slot. Hey-oh!
Cougar Town: the Porno:
Ok, so it would be about a recent divorcee who decides to start dating again and to try and get laid by men half her age. Wait...isn't that the premise of the show already? Damnit!
Rating:


7. That's My Bush!
What it really is:
Ok, so it's like the Honeymooners, but instead of a bus driver, the main character is George W. Bush, the 43rd president of the United States. It was created by Matt Parker and Trey Stone, the guys who did South Park, back in 2001, as a reaction to Bush winning the presidency. Instead of being a satire of the man himself, the show was actually a spoof of sitcoms themselves.
One almost wonders what would have happened if that election had gone the other way. Would the show have been called Buckets of Gore?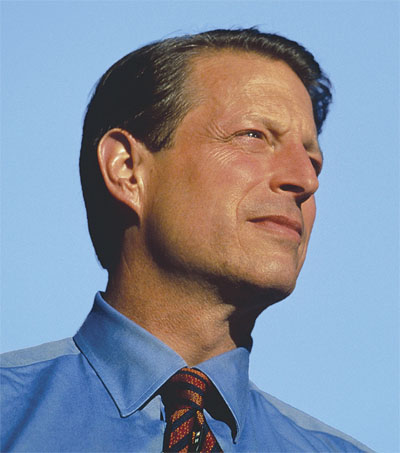 "Keep your sitcom. I'm going to do guest spots on Futurama!"
Well, the show was cancelled pretty quickly. Not because it flopped, but because it was too expensive. Only eight episodes were ever made, making it actually shorter than the entire run of Firefly. You know your show had trouble when it was shorter than a Joss Whedon show on Fox.
That's My Bush!: the Porno:
It's all about bush. The entire thing. Also, there's some dick in there too.
Rating:



(add another one if you're into hirsute ladies).
6. Golden Girls
What it really is:
It's a show about 4 single women who live together, get into wacky hijinks and experience the dating scene. So, it's a precursor of Sex and the City, but like Cougar Town, it also lacks horse-teeth. The catch? All the women are old enough to collect social security checks!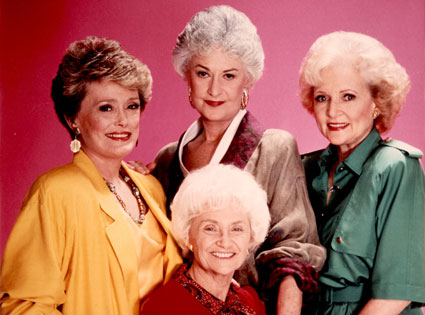 Let's get drunk on Metamucil martinis!
Ok, so this was a very popular sitcom back in the mid-80s, and when it ended, the show spawned two spin-offs: Empty Nest and The Golden Palace. Also of note, is the extremely sexy Bea Arthur, who played Dorothy on the show, and was also a guest star on All in the Family (#9 on this list) and later starred in one of its spin-offs (Maude).
Golden Girls: the Porno:
Ok, four elderly women try to get lucky, and then they decide to become golden...showers...Bea Arthur...oh man, I think I'm going to be sick.
Rating:










Did you like this article? Then try: