Going to the barbershop last week, I noticed a flyer posted up on a small board downtown. It was pretty simplistic, but it got the point across: in my hometown, the downtown was going to experience its first zombie walk.
For those of you who aren't in the know, a zombie walk is a kind of a planned bit of chaos. In this case, the participants dress as zombies (think Night of the Living Dead not 28 Days Later), and shamble around for a little bit before dispersing. There are some pretty big ones out there, like the one at the Monroeville Mall (where the original Dawn of the Dead was filmed) and sometimes hundreds, or even thousands of people show up to these things in full costume.
Now, my hometown, like it or not, is not exactly known as a place for young people. The average age of our citizens is in the 40s, and there's enough people out there old enough that they look like the living dead already. I was not expecting too much of a turnout.
Not only that, but Lindsay Ontario has a pretty piss-poor history with events. Who could forget the year they tried to hold a Renaissance Festival. The whole event was cordoned off to about 40 square feet, tucked away from the downtown, no advertising, and no participants except for merchants.
Chippy Sunshine and I were going to cover the town's first Scottish Festival this summer, but were taken aback after seeing the absolutely abysmal conditions of the attractions. There was actually lack of Scottish events, most being Irish or Dutch and a ratio of vendors to events that was in the range of 20:1. It was actually so sad, that we couldn't even think of anything snarky to say.
The zombie walk idea was different though. It was strictly out of the ordinary, and what's more, it was sponsored by Lindsay's Business Improvement Association (and in part by the Downtown Enhancement Association). All this, combined with the fact that the more I asked about it, the more I realized that nobody else had even heard about it, made me think that this was going to flop on it's face.
Enter on Friday, it's 6:00pm, the starting time according to the posters, and there's not a zombie to be found. I walked the length of the downtown twice, camera in hand, before I saw my first group.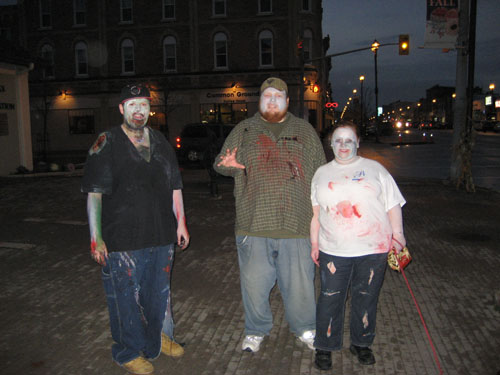 The first zombies, looking very happy that somebody else knew about the event.
The zombies had no idea if anybody else was going to show, but were happy that somebody was there to see them dressed as animated corpses. I took a couple of snaps and we headed our separate ways. Around this time, I was already writing the article in my head, complete with the title "What if somebody threw an apocalypse and nobody showed up".
After about 10 more minutes of wandering, I finally found a small mass of zombies huddled together and talking. Two vats, one of dirt and the other of fake blood, were open and people were eagerly dipping into both to augment their costumes.
I spoke briefly with Barb Evans, a member of the Downtown Enhancement Association, who seemed to be the only organizer present at the event. The poster had been ill-planned and most people thought the zombie walk was going to start at 6pm, after all, that's what it said. The actual zombie walk wasn't to start until 7pm, but nobody else had any idea.
Barb was quite nice, and told me that nobody was expecting a large crowd that night. It was the first time that anybody in Lindsay had tried something like that and she admitted that Lindsay probably wasn't the best town for something like this.
I continued to snap shots as zombies collected in ones and twos. More prominent were hicks who came to gawk without knowing what was going on. A few even ran over to the drugstore to grab Halloween masks so they could join in the festivities.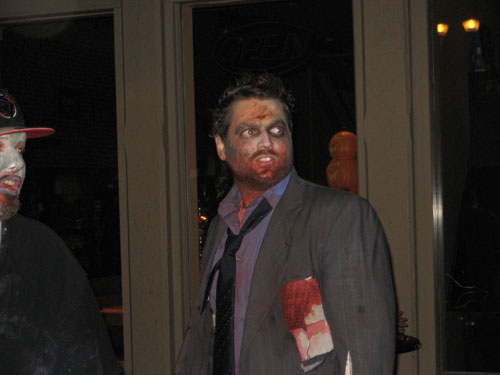 Zombie businessman was the first of the really well-done zombies to join.
Other, really good looking zombies, including a surgeon, a small kid and a couple of zombie-children dressed as witches for Halloween also showed up, but a lack of any form of communication at this time meant that several people simply got bored and wandered away. Many didn't bother to return for the actual walk.
Then the backup dancers showed up. I wish I was making this up, but Barb told me that a local dance school was sending several students to join the zombie walk and to do a dance of the undead during the proceedings.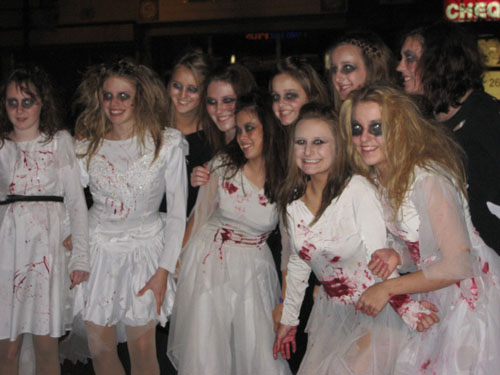 Zombie backup dancers. No matter how many times I say it, it still doesn't sound right.
As the time got closer, a pickup truck loaded down with speakers arrived. The plan was for the truck to lead the way, blasting music and spooky sounds. Sure, it distracts from the mood, and you can't hear any groans, but there's a good side to this:
Mother-fucking Thriller.
If there's something I can't resist, it's Thriller, and thankfully the zombies were only too pleased to indulge me with a little dance.
Finally, it was ready to get underway. The truck pulled out and the streets were closed off. The procession had begun.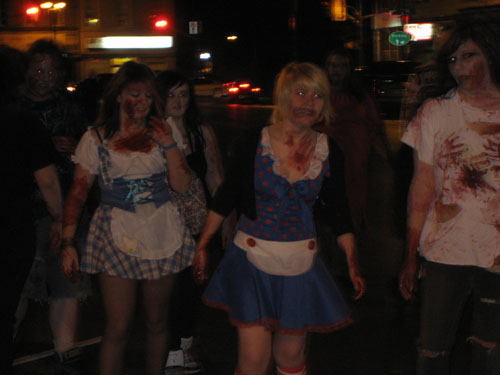 Zombie Dorothy and Zombie Rainbow Brite were among the attendees.
Now, not all the zombie costumes were as good as the others. Take this guy for example: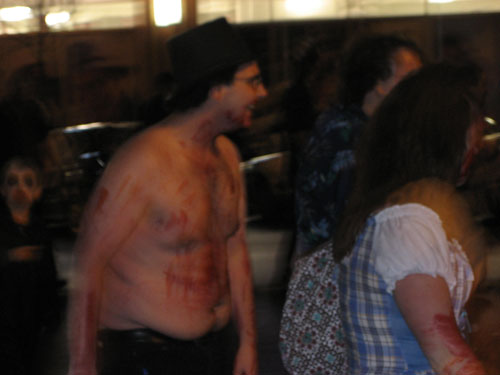 Pudgy shirtless zombie with top hat. Not exactly a crowd-pleaser.
I've thought it over for a few hours now, and I still can't understand what was going through this guy's mind when he was figuring out what kind of zombie he'd be. "Maybe I'll be a shirtless zombie, but I have to be classy. You know what's classy? A top hat."
The zombie walk proceeded to the first of three intersections, with only a small crowd watching.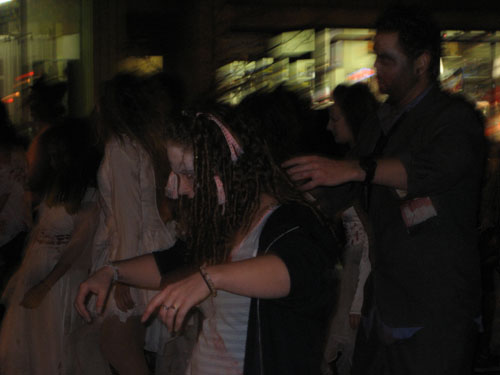 A couple of zombies walking old-school.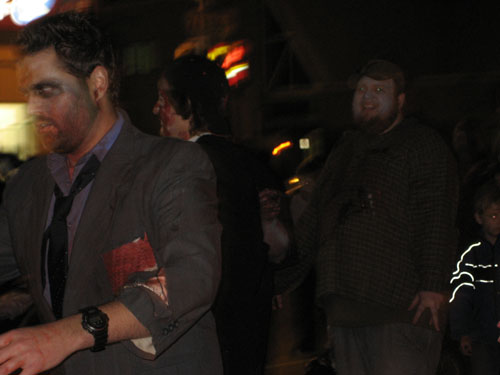 Once the arms on one zombie went up, the rest just followed suit.
At every intersection we reached, the zombie backup dancers, who were leading the procession, started to do a choreographed dance. It was all very jerky and animated, and you could tell that Silent Hill had some influence on the movements. There were definite hints of bobble-headed nurse and lying figure in there.
Every time the walk hit an intersection, the crowd watching had grown larger, and the dance began again right from the top. The rest of the zombies seemed a little peeved that they had to stand around waiting for the dance to finish before they could shamble on their merry way. I have a strong feeling that one of the organizers had a child in the dance troupe and that the zombie walk itself might have been a front for a public dance performance, but I haven't been able to verify.
Award for scariest looking motherfucker goes to this guy: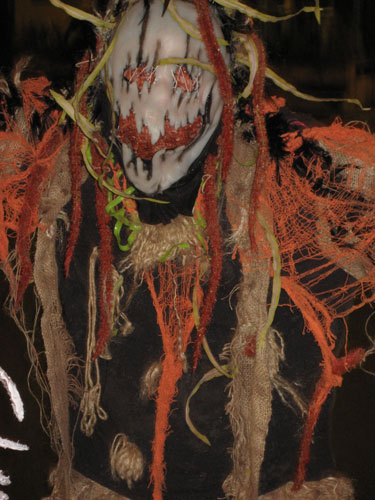 Geeze! I think I just crapped out my heart!
I have no idea who the man in the rag-doll zombie costume was, but he had fake arms that dragged on the ground as he walked and earned that applause the rest of the zombies gave him at the end of the walk.
So that's the Lindsay Zombie Walk in a nutshell. For all the bad planning and horrible advertisement, it turned out to be quite fun, and attracted a crowd that was easily twice the size of the participants (about two dozen people joined the walk). And despite my snark, I do hope that this is only the first of a yearly event.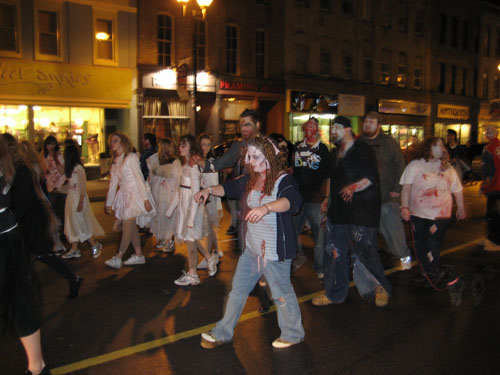 It's like a real-live zombie apocalypse!
Did you like this article? Then try: