Ok, I have a feeling that most of you have heard about this product that's been advertised on the TV like non-stop for quite some time. It's called a Snuggie. What's a Snuggie you ask? Well, why tell you, when I can show you through the power of the Internet!
So, yeah, there you go. The Snuggie is a blanket with sleeves. This is just one of those products that strikes me as needlessly stupid. Why you ask?
Well, the Snuggie, is, as the commercial states quite clearly, first and foremost, a blanket. The blanket is most likely the first garment that mankind came to possess. It's quite versatile. A blanket can be used as a blanket, as a cape or a cloak. It can be wrapped around your waist to become a kilt, or draped across your shoulders to become a shawl. It can be a towel, a tarp, a mat, it can be turned into a stretcher, a lean-to, a sail, a bindle, a bundle, a poncho, a burqa or any number of a million things.
So, riddle me this: Why in the fuck does a blanket need sleeves?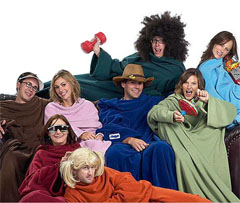 Not pictured: Dignity
It's not even really like the Snuggie is innovative. The Snuggie is basically a robe you wear backwards, without the benefits of a sash or a hemline that's not at or below ground level. It combines all the warmth of an open robe with the coverage and practicality of a hospital gown.
Get this: the Snuggie comes in a 'one-size fits all' size of 71 inches long. For you out there who are imperially challenged, that means that every Snuggie is 5.9 feet long. For a guy like me, who's 6 feet tall, that's probably not going to be problem unless I try to climb stairs. If I do, well, it's lights out, as I'd be likely to catch on the damn thing with my foot and take a header into a stair.
The Snuggie was invented (as the Slanket, a slightly more retarded name) by Gary Clegg in 1998. According to the story, his mother made him a blanket with one sleeve to use in his dorm room. I'm more apt to believe that Ma Clegg is lazy and one morning after a night of drunken debauchery woke to see that she had "accidentally" stabbed the blanket 52 times with a butcher knife. Not having enough material to patch the blanket, she cut out a sleeve and called it intentional.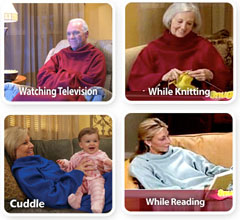 Not Shown: Pooping while wearing a Snuggie and nothing else.
Now Gary Clegg is, what I would refer to as 'delusionally retarded'. In a 2006 interview with Mangalorean.com, he called the Slanket "The Best Blanket Ever". I would have to disagree. The best blanket ever, probably doesn't have a pair of fucking holes in it that let cool air seep in.
See, if I wanted to stay warm on the couch, I'd probably get a sweater. See, it too has sleeves, and it's meant to completely envelope your upper torso in order to keep the warmth close to your body. If I wanted to go up from there, I'd get a robe. The robe again can be cinched up to keep the warmth in, and as an added benefit, it opens at the front, which means that I won't face plant if I try to move around in it. If I was still fucking cold, I'd get an actual blanket. It won't keep my arms free, but fuck it, I'm wearing a sweater and a robe too, so it's probably really fucking cold at that point.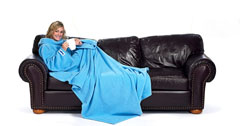 Nothing sexier than Snuggie lingerie...
Let's talk for a bit about the Fosdick Corporation. Fosdick (you can't spell 'dick' without 'Fosdick') markets the Snuggie. They're not a good company. In fact, they're pretty fucking bad. The Better Business Bureau gives the Fosdick Corporation a rating of 'F' for:
Number of complaints filed against the business
Failure to respond to complaints filed against the business
Number of complaints filed against the business that were not resolved
One or more serious complaints filed against the business
Overall complaint history with the Better Business Bureau
Length of time the business has taken to resolve the complaints
That explanation is pretty much pulled from the Better Business Bureau, nearly word for word, as I can't be bothered to reword it. It's just too simple as is. Fosdick, which markets a number of other ridiculously stupid products, as well as health products (and the evil that is the Shamwow) is based out of Connecticut, presumably because if it's hard to spell their address, they'll receive fewer complaints.
As of the writing of this article, Fosdick received approximately 985 complaints from the Better Business Bureau over a period of 3 years. Most of the issues are about billing practices, sales practices, delivery issues and refund policies. Compare that to the headquarters for McDonalds, which received 116 complaints in the same time frame.
But it's not the lack of ingenuity, the dangerousness, the uselessness or the shadiness of the company that markets and sells the Snuggie that bothers me the most. It's the look. Scroll up and watch the commercial again. Everybody in it looks like a complete retard. Why? Because they've chosen to revise a style of fashion not seen since the Order of Saint Benedict.
So, it got me thinking about some other uses for the Snuggie. Ones that weren't so, well, absolutely and mind-numbingly stupid. Here's a few that I came up with.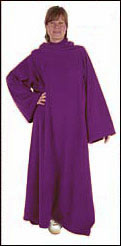 Heaven's Gate Cultist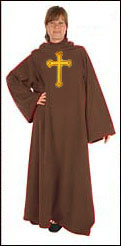 Catholic Monk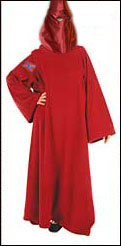 Grand Wizard in the Klu Klux Klan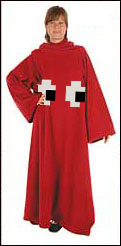 Blinky Cosplayer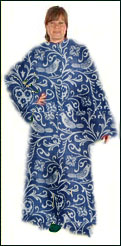 Ugly Mobile Curtains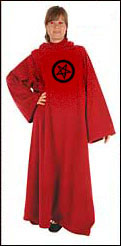 Practicing Satanist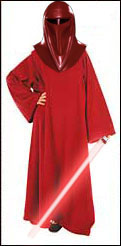 Imperial Guard, Death Star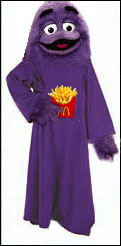 The Grimace
So that's it. I can't come up with anything more. Few products out there can inspire the same kind of angry response in me that the Snuggie does. It's got to be probably one of the stupidest things I've seen on TV since Spray on Hair and that's fucking saying something. The fact that they make the things out of "soft luxurious fleece" should be a tip off. They're fleecing people!
References:
http://ct.bbb.org/WWWRoot/Report.aspx?site=29&bbb=0111&firm=39001219
http://www.mangalorean.com/browsearticles.php?arttype=Feature&articleid=852
http://www.rte.ie/news/2008/1124/slanket.html
http://en.wikipedia.org/wiki/Snuggie
Did you like this article? Then try: