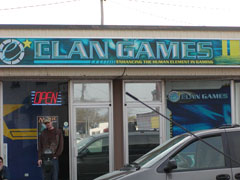 Elan Games: A great place to tempt high-fructose eldritch horrors.
I have a dream. It's nothing fancy. One lazy Sunday morning I was surfing Wikipedia, looking for something to occupy my time, and I came across the article for Orange Crush. I love the stuff. It's probably the first soda I ever drank and it's usually the first one my hand reaches for when I'm at a convenience store. Now I knew about the standard flavors: orange, grape and cream soda, as well as lime, which had been one of my standards, but my eyes grew large at the prospect of finding a whole cache of flavors that I had never even heard of, let alone tasted. Wikipedia lists (at the time of writing this) 25 varieties of Crush, including 3 diet flavors, 1 frozen variety and a few that are admittedly long since discontinued. I had to get my hands on as many of these flavors as possible. Not only that, I had to get as many people as possible to try these with me, so I put out the call and began searching.
So, began the Great Crush Hunt, an activity that lasted for about half a year. A friend over in Newfoundland procured two flavors for me, and I was able to grab a nice selection out of a place called Soda Pop Central. With ten flavors in total, I began making calls and setting everything up.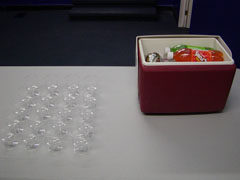 None of these cups know that by the end of the night, they'll be violated horribly.
Not unlike a wine tasting, we would keep each flavor at its optimal temperature until serving (chilled in ice of course), we would uncap, give the soda time to breathe and then pour for each participant who would sample its bouquet, then taste before filling out a comment card. To help cleanse the palette, water and cheese would be provided.
When everything came together, we were able to get together at Elan Games, the business that my taste-victim and webmaster John ran. Little did we know as we crossed the threshold, we would be tempting madness itself. Within my heavy cooler were some of the strangest and terrifying flavors of pop this side of the Jones Soda Holiday Pack, and also ice.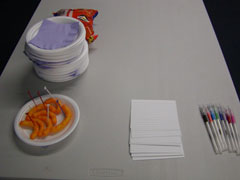 Cheetos, favorite cheese of discriminating hoity-toity types everywhere.
As we waited for our slower companions to arrive, the rest of us busied ourselves up with turning the back of the store from a shady and slighty-musty smelling area into a true Mecca of culture and good-taste. Setting up the requisite red cooler, the Crush was left to cool in ice, while a small number of cups and some bottled water was set up.
On another table, we arranged the comment cards and some Crush-coloured pens that Courtney had gotten for the occasion. Also included were some cheeses to help cleanse the palette and some fancy-ass plates to hold them on. I had tried to get advice from a wine store owner earlier that week on what cheese to serve with Crush, but he screamed gibberish at me until I left, so after a group discussion, we settled on Cheetos. So, if ever in the future you decide to have one of these functions, remember to skip the gruyére, forget about the havarti and go straight for the dangerously-cheesy puffed corn treat with the smiling cartoon cheetah on the bag.
As people filtered in, I went over the 'rules' as they were. Everybody would need to taste every flavor once and fill out a comment card. Each comment card would also need a score for the soda out of 10 possible points. The final score for each soda would be then compiled from everybody's scores. As I finished up explaining things, the last taster had arrived and we were ready to begin.
Joining our soiree this afternoon was: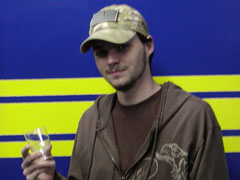 John Prentice - Host, entrepreneur, kind of a douchebag.
John Prentice:
What can I say about John...well, he's the owner of Elan Games, where we were holding this abomination against God, and he's also my web host. I had to invite him because I was using his stuff to help throw this party, but we'd worked on similar activities before, so I was sure he would be helpful. Geeze that's an douchey hat.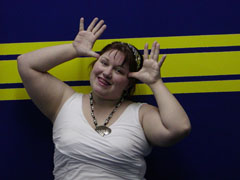 Courtney, showing off the hallmarks of a higher education.
Courtney Deighton:
Courtney's my girlfriend, so I can't say anything insulting about her here or she'll read about it and come after me with a wire coat hanger. Courtney helped me find most of the flavours and acted as camera-woman for most of the Crush tasting party. It was only later that we realized that she wasn't wearing her contacts at the time. Any complaints about out of focus photos should be directed to her.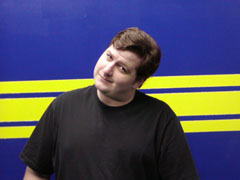 Brad trying to readjust his neck after a panty-raid gone horribly wrong.
Brad Callahan:
Brad is one of my D&D players and relatively new to the group. We hadn't had the opportunity to emotionally scar him for life yet, but come hell or high-water we would! Fun fact: Brad's insane naming of the various Crush flavors forced me to spend half an hour reading through his comment cards to try to figure out which flavors he was commenting on at the time.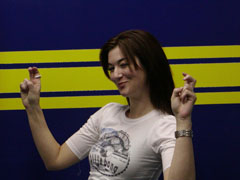 This photo has been furiously masturbated to at least a hundred times by now.
Sara McGrath:
Sara is an old hand at this kind of jack-assery and worked with John, Evan and myself on previous adventures including "Let's unwind huge amounts of rope in front of the prison" and "Let's do donuts in a college parking lot, while jumping in and out of the car until somebody yells at us". Thankfully our masochistic days are mostly behind us.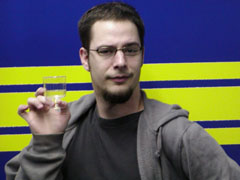 Forget what I said about John. Evan is truly the douchebag champion of the introduction photos.
Evan McNeely:
Evan's an old friend and another old contributor to both these kinds of projects, but also to much of my D&D writing. Evan's was kind of on shift at Elan this night, so occasionally he was screaming at some of the little kids playing there. Or, maybe he wasn't working and just enjoys screaming with children. Ok, scratch the first one. Evan McNeely enjoys screaming at children.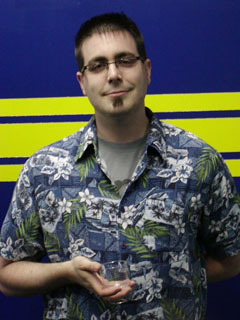 This photo has also been furiously masturbated to at least a hundred times by now.
Jordan Ritchie:
That's me. Hi there! This whole abortion is my fault. I'm so so sorry. Please, just let me make it up to you. I can do an amusing little dance for you if you'd like. It requires a pair of hip-waders, some balloons filled with butterscotch pudding and a pair of wooden spoons. Also, my picture's only bigger than the others because I needed to keep the width of all the photos in this article the same. I'm not egotistical. I didn't even take this picture! Skip down to later pictures where we show the bottles of pop if you don't believe me. They're all the same size!
Now that we've all been introduced it's time to go on with the tasting!
Round 1: Orange Crush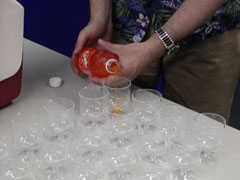 The first of many regrettable pours.
What can I say about Orange Crush. Well, it's the first flavour and the first one that comes to mind when you think about Crush soda. Let's see...it was invented in Los Angeles in 1916. It tastes of oranges and has spawned a seemingly endless slew of imitators over the years.
Comments:
Brad:
It had a solid body but lacked flavouring and the subtle flavour of orange vinyards.
Score: 5/10
Courtney:
It tasted like carbonated orange water.
Score: 9/10
Evan:
I taste some left-handed leprosy, truly a master Crush brewer.
Score: 7/10
John:
A crowning achievement in the carbonated beverage industry.
Score: 7/10
Jordan:
I can certainly see why this is THE Crush flavour.
Score: 8/10
Sara:
It was orange-tastic, it crushed my taste buds.
Score: 9/10
Final Score:








(7.5/10)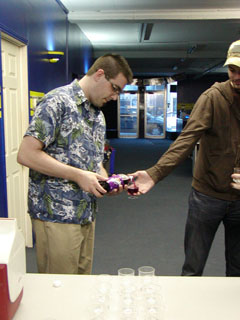 Pouring out the closest thing to wine we'll be drinking tonight.
Round 2: Grape Crush
Grape Crush is the second most popular flavor of Crush out there, and like Orange, it can be found pretty much everywhere that sells Crush. I'm a big fan of this stuff on a really hot day, but a lot of people think it tastes too much like cough syrup.

Comments:
Brad: When I was a young lad, I grew up on a toilet wine and cough syrup 'sprinkled' with antifreeze. This drink brought back several horrific memories.
Score: 4/10
Courtney: This takes me back, back to when artificial flavouring was a science, not an art.
Score: 3/10
Evan: A more primal flavour.
Score: 4/10
John: A classic invigorating taste that brings back the memories of the French vinyards which just so happened to be close to a McDonalds restaurant.
Score: 5/10
Jordan: If this was an Ebay seller, I'd give it negative feedback.
Score: 3/10
Sara: Reminds me of cough syrup without the buzz.
Score: 10/10
Final Score:





(4.8/10)
Round 3: Crush Cream Soda
This is Crush Cream Soda, one of only a small number of Crush flavours that puts the word Crush first in it's name. When looking up Crush flavours I discovered that there are actually two different versions of Cream Soda. There's a clear one and a pink one. Some people think they taste the exact same and others think that they're two distinct flavours. I could only find the pink Cream Soda, and it's the only kind they sell in Ontario. Apperently Americans don't have this flavour. My heart bleeds for them.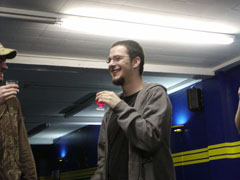 Those fools.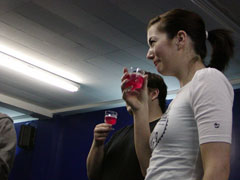 Those poor damned fools.
Comments:
Brad:
This is so far out of touch with reality, it is more a myth.
Score: 6/10
Courtney:
I personally loved it, but my taste buds made me throw it up.
Not my fault
.
Score: 3/10
Evan:
I was reminded of my tour in Nam...nothing to do with the soda...pure acid flashback.
Score: 1/10
John:
Fantabulous! Awesometacular!
Score: 6/10
Jordan:
It has a mouthfeel that is as wet as somebody peeing in the ocean.
Score: 7/10
Sara:
Tastes like the freezies that are always left in the back of the freezer that nobody will eat because they are
gross
.
Score: 6/10
Final Score:





(4.8/10)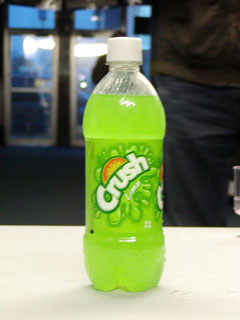 Lime: It's not just for the British anymore.
Round 4: Lime Crush
Lime Crush. Apperantly it's only available in Ontario. I used it to fill the void when Sour Apple Crush was discontinued in 2005. I hear Sour Apple might be back soon, but that's neither here nor there. Lime's a solid flavor in and of itself, but most people outside of Ontario haven't tasted it.

Comments:
Brad: I am stirred to use this 'drink' for other purposes - drain cleaner, rust remover, etc.
Score: 6/10
Courtney: Tastes like the river.
Score: 6/10
Evan: I secretly love it...don't tell anyone!
Score: 10/10
John: I think I now know where recycled batteries go.
Score: 7/10
Jordan: Hits the back of your throat like Sean Penn punching a cameraman.
Score: 6/10
Sara: Tastes like cancer...with a lime twist.
Score: 1/10
Final Score:






(6/10)
With Lime having been drunk, we were now out of 'domestic' varieties of Crush soda that we could easily just walk to the corner store and get ourselves. Now we were flavour country, with six more kinds of Crush that couldn't possibly fit on this page. Continue on to see the rest of the party.
Did you like this article? Then try: